Summary
Raila Odinga leaves the country for UK where he will address a public forum on the political situation in Kenya.
The Nasa leader is expected back in the country on Saturday.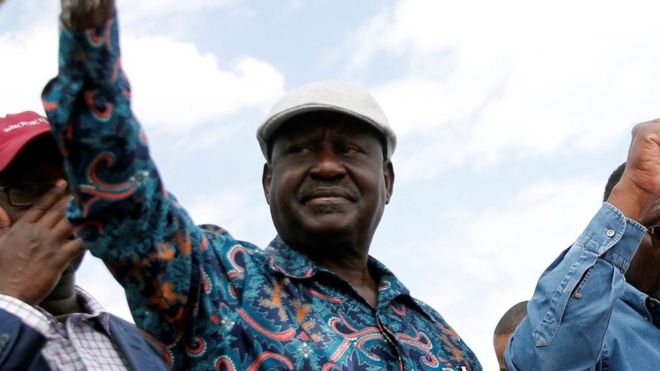 Nasa leader Raila Odinga has traveled to the United Kingdom where he is expected to give an address on the political situation in Kenya in a democracy forum.
According to Mr Odinga's spokesman Dennis Onyango Raila will address a public forum at Chatham House, Royal Institute of International Affairs – an independent policy institute based in London.
"He left the country last night for the UK," Mr Onyango said.
He added that they expected the Nasa leader back in the country on Saturday morning.
Mr Odinga's departure last night caught many by surprise as it had been expected that he would travel Thursday night. His advisor Salim Lone had earlier in the week told the media that Mr Odinga would leave the country tonight just in time to address the forum dubbed Kenya's Next Test; Democracy, Elections and the Rule of Law Research.
"He will be in London for a day and half. He will leave Nairobi on Thursday night to be in London in time for the event that begins in the afternoon," Mr Lone was quoted.
Mr Odinga, who has since withdrawn from the October 26 repeat presidential election citing IEBCs failure to put in place reforms necessary for a free, fair and credible election is expected to discuss the Supreme Court ruling that nullified the August 8 election and the reforms the Opposition would like to see ahead of a new election.
"The withdrawal does not affect Mr Odinga's forthcoming UK trip, where he will give an address at Chatham House, and hold discussions with current and former British ministers and other leading figures. Indeed, news of his withdrawal will make this visit help focus even more attention on the need for Kenya's friends to help counsel against the rapidly diminishing space for free and fair elections and the rule of law," Mr Lone said in a statement.