IEBC Chairman Wafula Chebukati (centre) with Commissioner Roselyne Akombe (left) and Vice-Chairperson Consolata Maina. Ms Akombe has said that officials who bungled August 8 presidential elections refused to resign, prompting the commission chairperson Wafula Chebukati to  make radical changes at the election agency.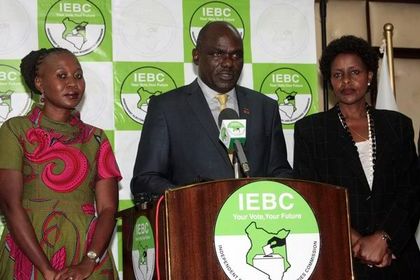 This has been revealed by Independent Electoral and Boundaries Commission (IEBC) commissioner Roselyn Akombe.
Speaking on Wednesday, Akombe said that the officials remained adamant that they were not guilty and would therefore not step aside, forcing Chebukati to pick a new team of six in whom he has confidence.
"In a normal democracy, people would have introspected, they would have opted to step aside," Akombe said as quoted by the Nation.
"They have failed to do that. They have refused," she added.
Akombe said that the law gives room for the chairman to make his own appointments with the intention of cleaning the dented image of the commission.
"In a situation where they have refused to step aside, the chairman has no choice but to select a team that he has confidence in, that he wants to work with," Akombe said.
"This is to make sure that those things are not repeated. It's rare to get a second chance to make it right," she added.